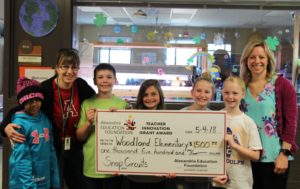 Teacher: Barb Walswick
School: Woodland Elementary
Students Impacted: 180 – 4th-5th grade
Amount Funded: $1,500
Funding of this project will support student engagement and increase learning of electricity and circuits. Students will understand energy appears in different forms and they will create simple electronic projects using safe materials in the Snap Circuits kits. As students grow in their knowledge, a variety of challenges and projects can be safely explored at the differentiated pace of each student.