August 8, 2022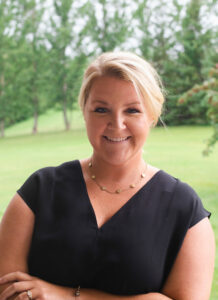 Alexandria, Minn.– The Alexandria Education Foundation (AEF) and Cardinal Athletic Foundation (CAF) have hired Kelli Minnerath as its new executive director. 
As the executive director, Minnerath will be responsible for overseeing the AEF foundation, programs and strategic plan of the organization. Other key duties include fundraising, marketing and community outreach. She will report directly to the AEF board of directors. For the CAF, she will primarily serve as administrative and marketing support. 
Minnerath, a 2010 Jefferson High School graduate (Kelli Winter), most recently served as the director of operations at Habitat for Humanity of Douglas County Minnesota. Prior to that she served as the director of development and operations for eight years at West Central Minnesota Communities Action Inc. 
Minnerath, who officially stepped into the leadership role August 8, said she is most excited about the opportunity to support teachers and make an impact in students' lives. "I have the utmost respect for Alexandria Public Schools teachers having seen and experienced first hand what a difference they can make in kids' lives," said Minnerath. "To be able to utilize the resources of this community and the Education Foundation to amplify that impact is very exciting to me.  And, to get to work with the Cardinal Athletic Foundation is the cherry on top of this opportunity.  I'm looking forward to learning about the initiatives that CAF has started and supporting them in elevating the experience of Cardinal athletes and spectators," she concluded.
Minnerath earned a Bachelor's degree from MN State University-Mankato in Psychology, and a Master's degree in Financial Planning and Counseling from the University of Alabama. Her community involvement includes serving as vice-chair of the Inclusion Network and Chair of the Cultural Inclusiveness Committee for the City of Alexandria. She resides in Alexandria with her husband, Grant, and son Pierce.
About AEF & CAF
The Alexandria Education Foundation is committed to supporting educational excellence and expanding learning opportunities in Alexandria Public Schools by partnering with the community. The organization's focus is on funding projects above and beyond the scope of the state budget and local tax dollars. The Alexandria Cardinal Athletic Foundation is an organization committed to serving as a capital fundraising partner to Alexandria Public Schools so today's student athletes can be equipped to serve as tomorrow's community leaders. For more information, contact [email protected]
#